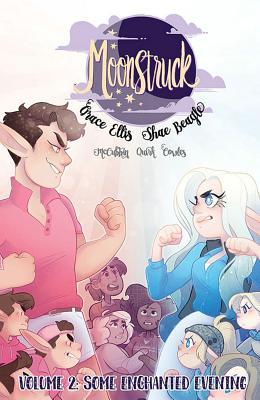 Werewolf barista Julie and her supernatural friends try to unwind at a party, but a conniving fraternity of fairy bros has other plans for our heroes. With one of their friends trapped in the frat house and the winter solstice (a notable night of magical mischief) looming ever-closer, it's up to the amorous werewolves and gregarious centaur to save the day. Collects MOONSTR Werewolf barista Julie and her supernatural friends try to unwind at a party, but a conniving fraternity of fairy bro...
Title
:
Moonstruck, Vol. 2: Some Enchanted Evening
Author
:
Grace Ellis
Rating
:
Genres
:
Sequential Art
ISBN
:

1534308458

Format Type
:

Paperback

Number of Pages
:

136 pages

pages
Moonstruck, Vol. 2: Some Enchanted Evening Reviews
That was better. Julie was an active participant in the plot. There's drama and character development. The plot is still something happening to someone else. In this case, Lindi and most of her band get trapped at a fairy frat party and aren't allowed to leave until Mark, the proac...

This is adorable AND there was a "Good Place" reference in this volume. ...

While I very much enjoyed the first volume of this series, the second doubles down on the silly and ends up with a plot that doesn't make much sense. The art is still super cute, and I kept reading entirely for the art. I found the plot to be confusing and rushed, without character dev...

The art is cute and the characters are fun but for the second volume in a row, I find I can barely figure out what's supposed to be going on in the plot. Characters seem to be imperiled, but also days seem to pass concurrently that are full of leisurely visits the mall and the coffee s...

I was super excited for volume 2 of Moonstruck!!! But I'm honestly pretty disappointed? I love the characters, love all the of representation, love the world but...the whole thing left me so confused. I honestly don't know what the plot of this was? There were fairies? They trapped...

*I received this book as an eARC from Image Comics via Edelweiss. I voluntarily read and reviewed an advanced copy of this book. All thoughts and opinions are my own.* I absolutely LOVED the first volume of Moonstruck. An alternative modern world full of magical creatures and so muc...

I received an ARC copy of this book from Edelweiss Another really cute volume in this series. It's definitely not a high-stakes book, but the character designs are really cute [I loved the Frat Bro Faeries in particular] and watching two anxious lesbian werewolves running around apo...

Moonstruck?s first volume was an intriguing fantasy story with a clear social commentary, albeit some pacing and story issues. This arc (and the last one I?ll be reading of this series) focuses around a fairy fraternity that has trapped some of Julie?s musician friends in their f...

It?s a good book (3.5 Stars) but I had a few problems with it. First of all, the story sort of has a weird non-sequitor feeling to it. The second chapter is all about them finding Mark when that was really easy and then suddenly they?re in a sorority fairy house. If you ask me, the...

Another adorable entry in this modern fantasy universe. I loved the addition of the fairy characters and the blood-feud drama. Despite the book being full of werewolves, centaurs, fairies, snake-women and more, the characters all feel so very human. Definitely a bunch of young adults (...

This series is seriously THE CUTEST! And so fun! And whimsical! But still deals with real relationship and friendship issues and I just love it! The art is colorful and adorable and the characters are so lovable! ...

ARC provided by Edelweiss and the Publisher. I really love these characters. I liked the addition of the new "villains" as the diversity of the magical universe of Moonstruck continues to develop and open up. And while at times it felt like this went in circles instead of advancing ...

I devoured the first year of Moonstruck in its bimonthly softcover form, and this collection of the second year is equally brilliant, fun and different. Julie is a barista in a college town, trying to come to terms with being a werewolf and her identity as a lesbian. Her friends are al...

Actual rating 3.5 stars ...

I cannot figure out what this series is trying to be. Grace Ellis has crafted some delightful characters that are beautifully illustrated by Shae Beagle, and the world they inhabit is a cool town with endless potential and imagination. However, the plot is inconsistent with character m...

such cute art and i love the fun paranormal creatures running around but damn the plot makes 000% sense. Loved the fairy frat boys though. Great twist. ...

What a confusing, pointless plot, and what an unhealthy relationship these two have! Like. Wow. Dump her now. Two stars because I still really like the art, and some of the character designs are cute. ...

3.5 Stars I feel exactly the same about this volume as I felt about the first one. I adore this series conceptually. It has SO MUCH potential and such a fun premise. It makes me feel the way animated kids? shows make me feel, except this series has way more canon queer rep than an...

After falling in love with Moonstruck's first volume, I was more than ready to continue falling butt over teakettle for volume 2. And well, I did. Our favorite anxious werewolf is back in her comfortable coffee shop, and things are going so well: Chet is happily introducing their fa...

Much like the first volume, I really enjoyed the characters and overall story, but the pacing from page to page just didn't work for me. The art is cute, the characters even cuter, and the idea of a fairy circle protecting a frat party from winter only to have a fight break out between...

5 STARS. This is seriously so wholesome and amazing and I love it with all my heart. The subplot in the Know-It-All interviews was so cool! AND MANUEL NAMES HIS NEWPAL FLUFFY'S BF I CANT ...

It starts off that from where Vol 1 ended and Julie has landed a gig writing the next story of her favorite series and we see little snippets of her work but she isn't ready to show her girlfriend Selena what she has written and problems ensue. I get this is not a high stakes GN but ...

Sadly disappointed by this instalment. I adored Volume 1 of this series; it was so fun, the fantastical elements/magical realism were great, Julie and Selena were adorable and I ate it up like a cupcake. The second volume, however, feels a bit lacking. First of all, the plot was... ...

I am extremely disappointed with this series. After really enjoying the first one I thought I?d enjoy this even more, but I was wrong. I can?t even tell you the storyline of this as it was so confusing and convoluted. I believe fairies were involved and that?s about it. Thi...

Ugh I don?t know what it is about this series where both books have left me feeling flat and dissatisfied. There are so many elements I like - queer characters, lots of magic, great art style - but the plots don?t really excite me and I?m completely uninvested in the main couple,...

Like I said in the Saga post I recently went on a bit of a graphic novel reading spree, reading three graphic novels and possibly a fourth before going back and finishing Obsido. I had already read and reviewed Moonstruck volume one when it first came out, I was super excited about thi...

I would probably rate this as 3.5 stars, but it may deserve more. The characters and their relationships are great. I wasn't fond of some of the plot this time through. But I think that's more of a personal taste thing than a good or bad thing. Another aspect that I hope didn't drag...

After loving the first volume so much, I felt a little disappointed with this one. The same issues I had with the first (super confusing storyline, you don't know how the issue got started or how it got solved because everything happens so fast) were much worse on this one. However, I ...