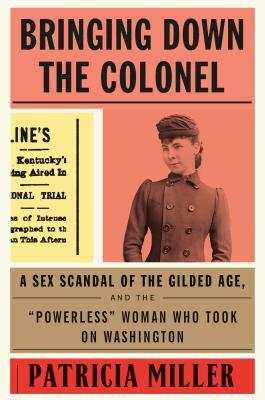 The woman--and her illicit affair--that rocked Victorian America When Madeline Pollard was a teenager, she began an extended affair with the Kentucky Congressman William Breckinridge, one of the most influential men in America. Breckinridge was married, and he once declared women's chastity "the cornerstone of human society." He seduced Pollard, and when his wife died, he a The woman--and her illicit affair--that rocked Victorian America When Madeline Pollard was a teenager, she began a...
Title
:
Bringing Down the Colonel: A Sex Scandal of the Gilded Age, and the "Powerless" Woman Who Took on Washington
Author
:
Patricia Miller
Rating
:
Genres
:
Nonfiction
ISBN
:

0374252661

Format Type
:

Hardcover

Number of Pages
:

384 pages

pages
Bringing Down the Colonel: A Sex Scandal of the Gilded Age, and the "Powerless" Woman Who Took on Washington Reviews
Powerful men taking advantage of women young enough to be their granddaughters? Society judging them completely differently, holding the women to an unfair set of standards? Women are supposed to be pure and undefiled, while men can?t be blamed for wanting a little action on the side...

A fascinating book about the trial that took down a colonel and also was the first chance for women in America to speak out about the double standards of a man "sinning" and a woman "being ruined". Much more intriguing is the epilogue where some women in the book come into their own an...

This is such an important read in the #metoo era. This woman is the reason anyone has ever been able to speak out about sexual improprieties by a highly regarded man. I urge you all to hear this story. ...

?The world seemed to be shifting under his feet, as were ideas about who was fit to sit in judgment of whom.? - Patricia Miller, Bringing Down the Colonel If you?ve been following along, you?ve probably seen this book appear on my various TBR pictures since December. I?ve ...

An excellent book...an incredibly interesting story, and Miller ties it to so much scholarship on gender relationships and women's roles during the late 19th and early 20th centuries that I would strongly recommend this to teachers as an assigned reading for their classes. ...

There are more non-fiction narratives of bullying being published. Or so it seems to me. While reading this book, I also tore through an appalling account of present-day avarice-led bullying by lawyers and executives in Silicon Valley. This micro-history is a bullying story of the old-...

Over a century before the onset of #metoo, a previously unknown woman brought a breach of marriage suit against a powerful Washington politician. This was no small thing since she would be required to reveal her status as a ?fallen woman.? Nevertheless, she took him to court in 189...

Patricia Miller accomplishes here a very detailed, in-depth investigation of the nineteenth-century scandal that was brought to trial and changed how America looked at women?s sexuality. Madeline Pollard was considered ?ruined? by an affair with a high-ranking government official...

Bringing Down the Colonel: A Sex Scandal of the Gilded Age, and the ?Powerless? Woman Who Took On Washington A look at things in Victorian America for women. A Kentucky lawyer and politician makes promises he won?t keep and plays fast and loose with young women while his wife ...

I don?t remember anymore where I heard about this book but I?m glad I did. Part courtroom drama, part lurid affair details, part examination of the historical context of breach of promise lawsuits and changing sexual mores, this is a thrilling read. ...

A non-fiction eye opener set in the 1890?s, with a story that could be headlines in today?s #MeToo environment. Stuffed full of fascinating characters and detailed research. Recommended! ...

"In the end it wasn't one woman who brought him down, it was all of them." I cannot recommend this audiobook enough, a superbly-told feminist story that challenges the Victorian sexual double standard for women that echoes through society today. Read for the 2019 Reading Women C...

Bringing Down the Colonel: A Sex Scandal of the Gilded Age, and the "powerless" Woman Who Took on Washington is just an okay read. I give it three stars. ...

BRINGING DOWN THE COLONEL is a nonfiction account of Madeline Pollard?s lawsuit against Colonel W.C.P. Breckinridge for abandonment (he had a shotgun marriage with another woman while engaged to Pollard) in 1893. Sadly, DC didn?t have seduction laws, which many other states had a...

What a fascinating history, one involving feminism, politics, law, and the ever-present double-standard in American society. Miller does a great job introducing to readers a wide cast of characters in this complex story, providing the background for each individual and ensuring that th...

A great telling of the true story of Madeline Pollard's successful suit against Kentucky Congressman William Breckinridge for breach of contract. Breckinridge married another woman while engaged to Pollard. There are some fascinating aspects to the story and it is definitely worth the ...

4.5 I'm surprised how much I enjoyed this, to be honest - I was excited to try it but I'm not the biggest fan of nonfiction, so my expectations weren't high. I enjoyed the tone and language a lot - it wasn't bogged down by long academic sounding sentences that I could barely underst...

When Jennie Tucker heads to Washington D.C. with the promise of a lucrative position, she has no idea what her employer has in mind for her. A single woman nearing her thirties, Jennie comes from a good family that has a beautiful home, but no money to maintain it?or her. In Vict...

Deeply enjoyed this one. 1890s court case where a woman sues a Congressman for seducing her, promising to marry her, and then marrying another woman. Seems scandalous and fun? It is, but there is much more here. Sexual double-standards, women's rights, and even modern relevance with th...

Where to begin? An astonishing book that immerses us in the late 1800?s in the United States. It?s a history lesson, a snapshot of the times (post Civil War) and a page turner. It goes all the way back to the Puritans to lay some surprising groundwork about the treatment of women a...

This book made me proud to be a woman and grateful to every woman that has stood up and said, "we deserve more." ...

?The real combatants, though, were two worldview about women and sex. One was the hierarchical, predatory southern ethic, which held that any woman who wasn?t protected by her father and domestic isolation was fair game and became part of a debauched class necessary to protect the ...

the ' me too' movement in the 1800s- who`'d have thought of it? but it really happened, and she won! the ' me too' movement in the 1800s- who`'d have thought of it? but it really happened, and she won! ...more ...

Enjoyed this book so much. It angered me in so many ways and I learned so much. It started a bit slow and mundane with all the information being thrown at you but once you get into it, it just sucks you in. It's so well researched and wrote out. I would recommend this book to everyone,...

That I stumbled across this volume by Patricia Miller is a sign that 2019 may be unusually kind to me. It is a delightful blend of history, politics and sex, a tale from the end of the 19th Century told in amazing detail and a keen appreciation for what it all meant. Miller makes a goo...

A must-read for any one who cares or is interested in women's history. ...

This book is very well written and has extensive amounts of research in it. From the tragic tale of Maria Halpin to Madeline Pollard?s fight against a society filled with double standards, this book was captivating from start to finish. There are also lots of parallels to today?s s...

The #Metoo movement is the latest in the cycles of history. Great book bringing together the people and the social movements that brought a wave of Progressive change. But the work never ends, does it? ...

Moral of the story: Screw men. Figuratively though. Do not literally screw men. Men are the worst. (JK Madeline Pollard did not take on an exhausting court case against a powerful man for me to tell women they can?t screw whoever they want to) (But men are still the worst) ...