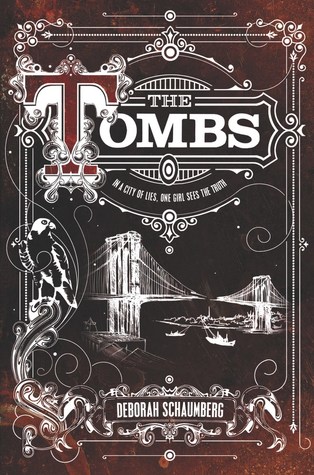 Gangs of New York meets Cassandra Clare in this debut YA fantasy set in 1882 Brooklyn New York, 1882. A dark, forbidding city, and no place for a girl with unexplainable powers. Sixteen-year-old Avery Kohl pines for the life she had before her mother was taken. She fears the mysterious men in crow masks who locked her mother in the Tombs asylum for being able to see what oth Gangs of New York meets Cassandra Clare in this debut YA fantasy set in 1882 Brooklyn New York, 1882. A dark, ...
Title
:
The Tombs
Author
:
Deborah Schaumberg
Rating
:
Genres
:
Fantasy
ISBN
:

0062656449

Format Type
:

Hardcover

Number of Pages
:

448 pages

pages
The Tombs Reviews
Excellent teen appropriate steampunky historical thriller. Danger and threats increase steadily in scenes around 1890s New York City. The denouement reads perfectly and really screams to be filmed. ...

Couldn't put this down. An intricate and interesting world! ...

Avery lives in a tenement and works with the other undesirable kids as a welder. Her mother is gone, taken away to The Tombs as a mental patient years earlier, and her father has struggled ever since. While he used to make amazing clocks, he no longer does that, preferring to tinker on...

The cover of this book and premise made this a must read for me. I enjoyed Avery and found her very kind, loving, loyal, as well as a risk taker and hard worker, all of which I admire. I loved the rich writing and felt the world was real. However, the book pace was too slow and not ...

Deborah Schaumberg's The Tombs first landed on my radar because of its stunning cover. Then I read the synopsis and a decision was made: I needed it and pronto! As it turns out, The Tombs is a magical and rich debut. It's hard not to become completely enthralled by Avery's journey as w...

Teenage Avery?s life changed the day her mother was committed to the Tombs, a ?hospital? for the insane. In an effort to hide their disgrace?and out of necessity as their middle-class standing is ruined?Avery and her father change their names and move to a less desirable part...

Though I'm DNFing after eight chapters, I do think there's a lot of promise in this debut. Nothing quite worked for me personally, but everything has a lot of potential. I feel like I'll probably really like Schaumberg's next book but it's not quite there yet for me. I like what I've r...

I was curious about the title, intrigued by the cover, and once I began, I just couldn't stop. That's how mesmerizing I found the story to be. We're in the early 1800's, Brooklyn, New York, and seeing the world through the gritty, muddied streets of the average Joe/Jane...or rather ...

Review courtesy of All Things Urban Fantasy. THE TOMBS captured my attention with the alluring promise of a forbidding city and a young woman struggling with unexplainable powers. I was enthusiastic to read a historical fiction novel and found the stylized cover intriguing. Unfor...

Hopefully there will be a second book! ...

This historical fantasy takes place in an alternate history New York in 1882. Avery Kohl is a young woman working in one of the many factories. She a welder in an iron works. She and her father are hiding from the Crows who took her mother and imprisoned her in the Tombs which is part ...

The reader finds themselves in a haunting, dark, gritty New York City, one that holds powerful secrets and powerful men -- all of which work toward trying to harness the abilities of "witches", the people who are branded as such and then locked away in The Tombs, a horrible asylum/pris...

A different twist on the dystopian theme, one taking place following a civil war not unlike ours. Avery has a power that terrifies her at first because it's similar to the one that got her mother hauled off to the asylum underneath the Tombs in New York City. It's been years since Aver...

Loved it. What a roller coaster of a book. I hope there will be a sequel. full review to come ...

Actual Rating: 3.5 Stars! Same Review Also Posted On My Blog: Dreamy Addictions I have mixed feelings about this book. I really enjoyed it but I didn't love it. The concept of this book was amazing and the world building was a total perfection, but sadly I couldn't connect with the...

There was so much to love about Deborah Schaumberg's debut novel, THE TOMBS. First off, the setting for this novel is New York City in 1882, which peaked my interest and made me want to move this novel to the top of my reading list. Then, I found out there was a secretive asylum with a...

This book, like all the historical fiction I?ve been reading lately, led me to Google and Wikipedia to learn more about the real history of the Tombs and the Five Points neighborhood in NYC. Fascinating! And I had no idea what this story was going to be about, so the plot was surpris...

A very good first book from a new to me author. I enjoyed the steampunk and paranormal aspects and am interested to see if a follow-up book is in the works. Well written, vivid prose. ...

I'm not going to bother with giving this a full, in-depth review, and I apologize for that, but this book uses a tremendous re-occurrence of a slur ("g*psy", a common slur against Romani peoples) and makes no apology for it. There's even an author note in the back of the book in which ...

I loved this book! The setting and time period were beautifully interlaced with the plot, the characters are to die for, and the mystical feeling is outstanding. A wonderful read for anyone who loves fantasy and/or history. I read an ARC of the book and I can't wait to see it out on th...

Having just finished this book, all I can say is: I want the sequel! Please, please, please let there be another book because I'll go crazy if it just ends like that! Right from the start, I was hooked by the concept and the characters. It was a beautifully told story with layered indi...

I know my status updates don't seem like I enjoyed this book, but I really, really did. It was special. The Tombs is definitely one of the creepiest books I have read in a long time, and the main antagonist was horrifying. The characters were amazing, as was the atmosphere, and I thoug...

Sixteen-year-old Avery Kohl has been working as a welder in an ironworks factory ever since her mother was locked in the Tombs asylum and she and her father had to flee their respectable middle-class life. The skills Avery has developed in creating perfect metal connections are only ap...

*thank you HarperTeen for sending me a copy of his book in exchange for review!* This book was really very okay. The plot is so intriguing, curious, and did leave you wanting to turn the page, but I kept finding myself rolling my eyes at dialogue or squinting at the small moments...

This book is wonderful. The characters are loveable and it was really well written. It would have been one if my favorites IF there is a second book coming out. The ending, if not having another book, ruins that. It's not that it's a terrible written ending, it's that it leaves you wit...

Originally Posted On The Sassy Book Geek **** Huge thank you to HarperTeen for approving me for this eARC in exchange for an honest review! **** I have to say I?m a little confused about my feelings for this book, because it started out excellent and then for some reason dra...

This book was FANTASTIC! I absolutely love historical fiction and this had everything I love about it plus action. I do enjoy some of the darker sides of history, and this gave me exactly the right amount. It may seem a little macabre, but it's just enough to give an idea of how badly ...

I loved this book and everything about it. I read it 2 times because I loved it so much. I am so hoping for a second one. Every detail made me feel like I was right there living through it all with Avery. I loved this book so much I am truly having a hard time describing how much I lov...

Three years ago, Avery's mother was taken and placed in an asylum for being insane; she saw visions, something unusual in new York. Now, Avery fears that she will also be locked away in the Tombs because she is starting to see things as well. When her unusual gift causes an explosion a...

I thoroughly enjoyed this book more than I expected I would. This was my first historical YA fiction novel and I am definitely interested in reading more after this. ...